Get rid of unwanted trees and stumps in Boonville, Columbia, Fayette, MO and other nearby areas with our tree shearing services.
Are you looking to clear a plot of land for a new build? Do you have old, overgrown areas on your property that you want to get rid of?
Tree shearing and brush removal services are what you need to clear areas of land, or prepare for new work to begin! At Stanaway Farms, we have the equipment, manpower, and safety training necessary to clear your land at a much faster pace than you would be able to do on your own.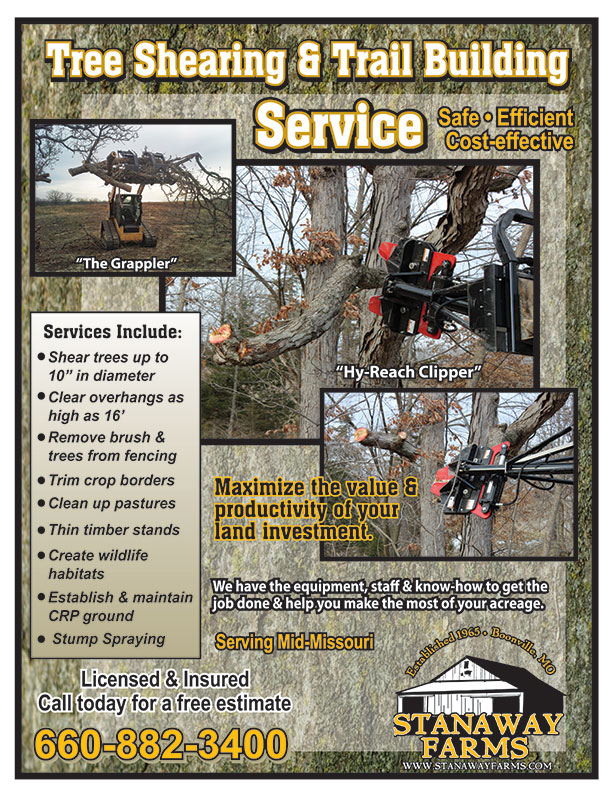 Tree Shearing & Trail Building
Tree shears are a tool that we attach to a skid-steer to remove smaller trees that you no longer want on your property. This tool is also used to help shape and control the density of trees. We can provide tree shearing along fences and field borders as needed.
We have the equipment, staff, and know how to get the job done quickly and efficiently. We will help you make the most out of your acreage, maximizing the value and productivity of your land investment. Hiring a professional to get rid of any size tree is a smart move! You not only save time, but our professionals are equipped, licensed, and insured to handle any hazards or dangers that comes with removing vegetation. Our services include:
Shearing trees up to 10" in diameter
Clear overhangs as high as 16'
Remove brush and trees from fencing
Trim crop borders
Clean up pastures
Thin timber stands
Create wildlife habitats
Establish & Maintain CRP ground
Stump Spraying
Food Plots

Sprout & Stump Removal
We offer sprout and stump removal services for your property as well! Sprouts are vegetative growth on a tree that grows rapidly and vertically from the trunk or branches of the tree. These spots can reduce the quality of the tree and create spots that promote breaks or disease in the tree. Request sprout removal from your trees during early spring!
We also offer removal and control of Black Locust and other types of thorny invasive brush that can overtake a pasture over time. We can help you to reclaim your pasture or land from this type of brush. Black locust can be very hard to control because of the ability of the tree to spread and vegetate. We are able to reach areas with rougher terrains and treat areas with our track loader vs. the other guys with regular tractors. We cut Black Locust at the base and treat the stump with Pathway Speciality Herbicide for long-term control. We can also use Crossbow treatments on cut stumps in the early fall prior to the first freeze, this kills the small saplings. Crossbow herbicides are used in non-crop areas along fence rows and the edges of wooded areas, killing undesirable trees and brush like the Black Locust.
Sprout, stump removal, and spraying are our specialties! Contact a professional today at (660) 882-3400.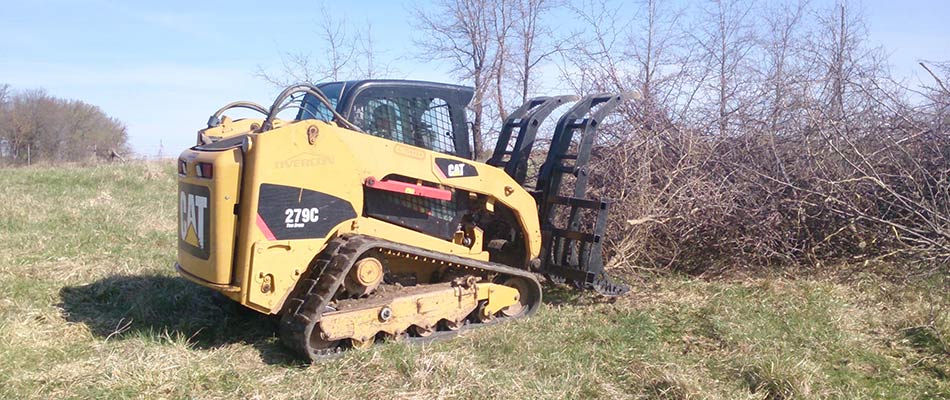 Get in touch with us about our tree services or brush removal services.
Whether you are in the market for new land that needs to be prepared or have a yard in desperate need of overgrowth removal, we can help! We offer brush removal services with a grapple that will have even the densest brush cleared away in no time! We're currently serving the Mid-MO area, such as Boonville, Columbia, and Fayette. You can call us directly at (660) 882-3400 for more information regarding available services and pricing information.